Lanyards & Silicone Wristbands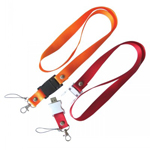 These are the most popular lanyards and silicone wristbands based on your feedback.
For the full ranges: Visit Our Suppliers Page
The Many Promotional Uses of  Printed Lanyards and Wrist Bands
Promotional lanyards and silicone wristbands are a popular choice for companies seeking custom promotional items, and for good reason. Whether helping with security, making it more convenient to access small items, or being used as a fashion statement, they are useful items with a high degree of visibility that you can count on them to promote your brand.
If you have a business with multiple tiers of security clearance, then it is often a good idea to use custom lanyards so that workers can easily display their clearance level. If you are worried about the dangers of them wearing something that could get caught in an area with moving parts, such as one might find in a factory or the conveyor belts of a grocery store, breakaway lanyards are by far the best choice: they unsnap under stress, allowing the wearer to come free, easily and quickly.
Alternatively, they can be a great way to reduce the difficulty of managing large crowds at events. If you require identification or passes for everybody, then promotional lanyards are a cheap and effective way for them to have it in plain sight. Even better, if they choose to bring their conference lanyards home and use them afterwards, people will see your brand name, logo, or anything else you choose to put on it. Before you know it, people will see your lanyards Australia wide.
Promotional printed lanyards have many uses and come with a great variety of attachments. Once equipped with the necessary attachment, they become holders for name tags and ID cards, USB drive carriers, extensions for keychains, a way to hold a whistle for a sports events – anything you can think of. A reel attachment on a lanyard is particularly useful for security cards, as it allows the user to greatly extend the reach of the lanyard for swiping or showing the card. This way, they can reach it without removing the lanyard.
Silicone wristbands are another great choice for many events; by customizing them, you can give visitors or customers an effective identification device that lasts much longer than an X on the back of the hand written with magic marker. Many people enjoy wearing them and will continue to use them simply because they want to. Because of this, you can use them as giveaways at events or even sell them as a souvenir.
It's also worth noting that, thanks to their origin in Lance Armstrong's LiveStrong campaign, silicone wristbands are often associated with good causes. If you are running a charity fundraiser or something similar, they are practically indispensable. Thanks to their low cost, you can sell them at low prices and still make a profit. In addition, they will do what they were originally intended to – raise awareness for your event, cause, or business among people who see them.
If you're interested in using promotional lanyards or silicone wristbands to promote your business, call or email us for additional information.