Artwork Requirements For Decoration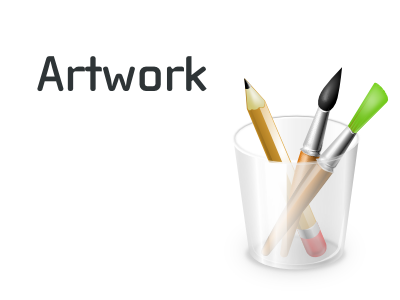 ARTWORK INFORMATION
The method of decorating we use to brand your products will determine what type of artwork file we require. This can get a bit complicated for most people who simply send what art files they have. For those of you who are more knowledgeable about digital art and file types please read on.
1. Four colour process or digital printing is used for products such as stickers, photographic stubby holders, full colour fridge magnets, printed bags etc. This requires a high resolution PDF file in CMYK with a resolution of 300 dpi+ and embedded text. Vector EPS files will work. JPEG'S can work sometimes if they are high enough quality. All fonts need to be converted to outlines/curves. This is very important!
2. General printing, screen printing, engraving, embossing, hot stamping etc- used for t-shirts, pens,  stubby holders, desk items, golf balls, coffee mugs, compendiums etc. requires a vector EPS file with all fonts converted to outlines/curves. This is very important! Any vector art file will suffice but an Ai file is preferred. If you are confused about the terminology call whoever made the logo or your stationery printer as they will know what we mean.
3. The best file for embroidery is a JPEG. Your logo will be redrawn and digitized before embroidery.
4. If you have a particular corporate colour it will have a PMS colour. We need this to match the colour exactly.
5. Files that don't work-We can't use tif, gif, pub, png, JPEGS, word docs or letterheads-these are not artwork files! No need to send them thru as they don't work. Nor any images in low resolution. If  you blow up an image you want to use and it looks fuzzy that is  how it will print. Just grabbing low quality images off the internet doesn't generally work. A good place to grab images at cheap prices is BIG STOCK PHOTOS . If at the end of the day you have whatever files you have we will need to get them redrawn for you. There is  a cost to do this but they will then be in the correct format for next time.
6. If you want to order please refer to our order checklist so you can provide all the info we need in the beginning which will speed up your order.
Questions? Call us on 1300 360 055.