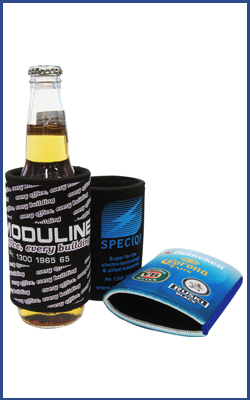 There are numerous advantages to getting printed stubby holders made for your business. Stubby holders are the sort of useful item that many people tend to collect. They're especially handy for those big summer barbecues, when there never seem quite enough to go around! For this reason, they're an excellent way to promote your business. If they're good quality and last a long time, a stubby holder can keep promoting your business for years and years.
Stubby Holders are a Great Promotional Tool for Some Business Types
However, before deciding to purchase printed stubby holders, there are some things you need to consider. For starters what sort of business or organisation do you want to purchase them for? A law firm will probably find stubby holders a less suitable promotional item than will a mixed business or newsagent, for example, so while it's a product that may have worked fantastically for a friend's company, you have to consider whether it's right for yours.
Consider Quantity and Cost Before You Buy
Once you've decided that printed stubby holders will make an excellent promotional tool for your business, you need to decide how they'll be used and how many you want to purchase. If you've got the sort of business which can sell them (this is also handy for sporting organisations and the like, who find things like printed stubby holders to be a great way of making a few extra dollars) then the cost to purchase them may not be as much of a consideration. However, if you're planning on giving them away to repeat customers, then you'll need to budget carefully. In some cases you may save a lot of money per unit by buying in bulk, but if you end up with hundreds of stubby holders sitting in your storage shed, then the savings haven't worked in your favour. You're better off starting with a smaller number and seeing how well they work for your promotional efforts.
Quality of the Product is of Prime Importance
Another thing when purchasing printed stubby holders is a consideration of quality. The last thing you want is to purchase a shoddy product that starts falling apart and/or fading. While you are using them to promote and advertise your business, you're also demonstrating your business's commitment to quality with the products you sell or give away. It doesn't matter whether you ultimately sell the stubby holders, or give them to customers, if they're not made well it will work against you.
Purchasing printed stubby holders is really an excellent means of promoting many businesses and organisations, and with a quality product the promotional efforts truly can last for years.