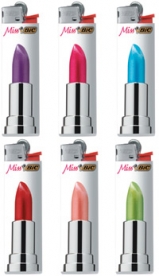 To put simply, BIC products are designed to make the lives of consumers much, much easier. These products are designed to solve every day needs and provide convenience for those who purchase them. From ballpoint pens to lighters and shavers, BIC products can be used by anyone. In the following sections, we'll learn more about these products as well as how BIC provides value for their customers.
BIC Pen
BIC is a company that has successfully made the ballpoint pen a major success in the industry. Ever since its original conception in the 1950s, they have refined their manufacturing process and made it much more streamlined. As a result, they can mass produce pens while ensuring that they remain durable and of high-quality.
The process associated with producing ballpoint pens can be exceptionally technical. BIC consistently changes their approach to ensure that they deliver the best pens possible. Seasoned employees and technologically advanced control systems allow them to get their products to hundreds of millions of people all over the world.
BIC Lighter
In order for BIC to successfully meet customer demands, they started producing high-quality lighters. Ever since 1972, they've utilized advanced technology to manufacture lighters while ensuring that they are robust and that they follow standard safety protocol. More specifically, lighters produced by BIC are guaranteed to surpass the specifications for safety measures in today's day and age. They have the safest child proof system in the world!
BIC Shavers
BIC shavers were originally manufactured in 1975. Ever since that time, this company has developed a process to ensure that each unit is produced perfectly. To be a bit more specific, they've made sure that their shavers meet high-quality standards by performing over 20 checks during the manufacturing process. These checks require over 10 different operations in order to utilize. BIC produces shavers for both men and women.
Safety and Quality – BIC's #1 Product-Related Goal
It is BIC's goal to make sure that each of their products are produced to be safe and be of high-quality. They produce over 40 million products on a daily basis. Very strict manufacturing procedures are used to see the process through. They believe that the best way to maintain customer engagement is to create superior merchandise: Here are a few examples of just how versatile their products are:
BIC's ballpoint pen can draw a continuous line for almost 2 kilometers before running out.
BIC's lighter can produce over 3,000 flames before burning out. More than twice as many lights as other lighters.
BIC's shavers can be used for over 10 days and will be just as efficient in the end as they were in the beginning.
With BIC products, you'll be guaranteed amazing value for your money. With their ballpoint pens, you'll be able to write in several different colors. With their lighters, you'll be able to enjoy countless hours of flame. And with their shavers, you'll be guaranteed over a week of continuous shaving without losing sharpness or efficiency.
Unique and Effective Manufacturing Process
As you may already know, BIC's high tech manufacturing process is what really allows them to stand out from the crowd (and produce high-quality material). They use the newest and most innovative technology possible and have specially trained employees who are highly trained for effectively operating these systems. But probably one of their greatest traits is that they perform tons of safety and durability checks before distributing their products.
Conclusion
Close to 80% of their products are produced within their own factories while about 20% of their products are created by manufacturers under contract (but who still follow and comply with their standards). From ballpoint pens to shavers, BIC remains committed to their customers and are searching for new and innovative ways to please them each and every day.