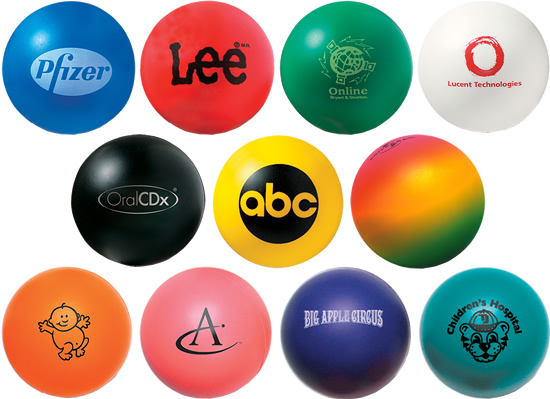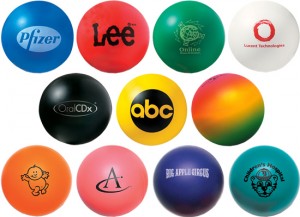 Stress balls are small, pliable items that can be played with to lower stress. Think of talking to the bank manager and having a squeezable ball to vent frustration on. But did you know that they can also be used as promotional products for small businesses and companies?
The reason why is because they come in a wide range of colors and can bring a smile to people's faces. They work quite simply: fingers are squeezed around the ball and it is this action that will help alleviate some of the tension that someone may be experiencing.
Popularity of Stress Balls
Stress balls come in several different variations. But perhaps the more common one is the kind produced from foam rubber and polyurethane. Afterwards, a small amount of liquid is inserted into the ball so that it can become moldable. The popularity for stress balls has increased in recent years, for both gifts as well as promotional products for businesses. As a result, more and more of these items are being personalized and one can have full control over their color, style, and size.
Stress Ball Designs
When most people think of a stress ball, they immediately picture a large smiley face with a positive quote or two stationed around it. However, in today's day and age, business owners (as well as regular consumers) can have a lot of control over how their designs look.
They can be used as a corporate gift and even have a logo and slogan printed on them so that customers can remember your brand. Since they come in a wide range of color and design options, there is a good chance that you'll be able to develop a promotional product that people love.
Stress Ball Relief
Aside from being customizable, promotional stress balls are very practical. They work hard at relieving stress and tension and can come in a lot of handy for those seeking a mentally soothing solution for their problems. And since most people occasionally feel stressed, these balls will serve as a constant reminder of your company. Psychologically, consumers will start to link positive emotions and thoughts with your business and will be more likely to engage with you in the future.
Promotional Events
There is no "best" place to give away promotional stress balls. However, if you want to get them in front of the eyes of hundreds or thousands of potential clients then you should consider visiting promotional events or business conventions. As a business owner, you can give away your customized stress balls away free of charge and consistently place yourself in the heads of your customers whenever they are feeling stressed.
We live in a world that is relatively fast paced and this can take a toll on our bodies and minds. Customized stress balls will relieve a lot of physical and mental tension and are items that can be used for a long time. Their lifespan can exceed several years, far more than the average promotional balloon or brochure.
Conclusion
To put simply, promotional stress balls are far more than your standard rubber ball. They are specifically made to create visual and emotional links between consumers and companies. They can help someone release a lot of their stress and help them feel happy again. The good news is that as promotional items, they are very budget-friendly. Hey they are just a bit of fun!
And since they have a long lifespan, it's safe to say that you'll be receiving amazing value for your dollar. Promotional stress balls offer a wide range of advantages and as a small business owner, it is a promotional option that you should definitely consider.